Ankle Sprains/Fractures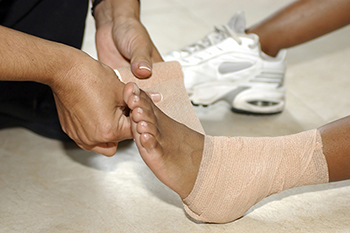 One of the most common causes of pain felt in the ankle region is a sprain. When ligaments in the ankle are torn or overstretched, an ankle sprain is likely to occur. There are three types of sprains that may develop: mild, moderate, and severe. In the case of a mild ankle sprain, the ankle is stable. The ligaments, however, are stretched. A moderate sprain consists of one or more ligaments being partially torn, and there's limited movement. Severe ankle sprains include one or more torn ligaments, the ankle being unstable, and an inability to move the foot.
Ankle sprains are a common occurrence for those who are particularly active in sports. Volleyball, basketball, and soccer are just a few of the types of sports that are prone to producing ankle injuries, including ankle sprains. Many athletes have found that compressing the ankle by wrapping it in bandages is an effective method for helping to prevent injury. Exercising using a balance board has also been found useful for strengthening the ankle and increasing its stability.
When the ankle experiences trauma, a fracture may occur. Causes of ankle fractures can vary. In some cases, an obvious impact to the foot or a fall can be behind a fracture. Fractures can also occur because of increased stress on the bone over time.
Pain, especially when bearing weight, is a telltale sign of a fracture. Limping due to this pain is a further sign of an ankle fracture. Other symptoms include inflammation, bruising, deformity, and tenderness. A deformity may occur due to a shift in bone alignment or a joint dislocation near the fracture. While pain is a significant symptom of breakage, a patient who has nerve damage or who has diabetes may not feel this pain. In this instance, your podiatrist will look for additional signs to determine whether a fracture has occurred.
If you're experiencing ankle pain and believe you might have a sprain, it's highly recommended that you consult with a podiatrist for a proper diagnosis and advised treatment plan.